Get ahead of competitors with smart OTT services
Say goodbye to the challenge of traditional television advertising and hello to data-driven over-the-top (OTT) and connected TV (CTV) advertising.
With connected TV and OTT services, your business can advertise on some of the biggest streaming services, from NBC Today to A&E, and use advanced targeting settings to ensure your ads reach the right users. 
You'll also have access to critical analytics data, like:
Impressions
Watch percentages
Clicks
And more
The TSF team has impressed me again and again with their knowledge, professionalism, and their willingness to bring our products to the customers who are looking for them.
Director of Marketing
CONTRACTOR
Why advertise your brand with OTT and CTV advertising services from TSF ?
With OTT and CTV advertising, plus a partner like TSF, your brand can get several benefits, including:
Reach your target audience on the streaming services they use
When it comes to the U.S., companies can reach more than 70% of U.S. households via OTT and CTV advertising. With cable subscribers dwindling, OTT and CTV advertising has become a new and effective way for businesses to reach their target market on big (and small) screens.
TSF helps your business maximize the reach of its ads. With our OTT and CTV services, your company can access some of the leading marketplaces and TV programmers, including Google, CNN Go, Open X, and Univision, and get your brand in front of the users that matter most.
Improve your ad campaigns' impact with advanced targeting options
You want your ad campaigns to impact your company's goals positively, and that's possible with CTV and OTT advertising. With these campaigns, your brand can use in-house data, behavioral data, and demographics data to create an audience that matches your ideal customer profile.
For example, with TSF, your business can use the following targeting options:
Addressable: Use GPS data and internal address lists to create a hyper-targeted audience.
Behavioral: Use keywords, online behavior, and context to reach new audience members.
Demographic: Use location, income, and more to target more than 125 million U.S. households.
Build a targeted campaign that reaches your target market at the right time and reap the benefits. From more website visits to more purchases, OTT and CTV advertising can help your brand accomplish big goals.
Measure your return on investment with zero work
You don't have to struggle to measure your return on investment (ROI) with CTV and OTT advertising.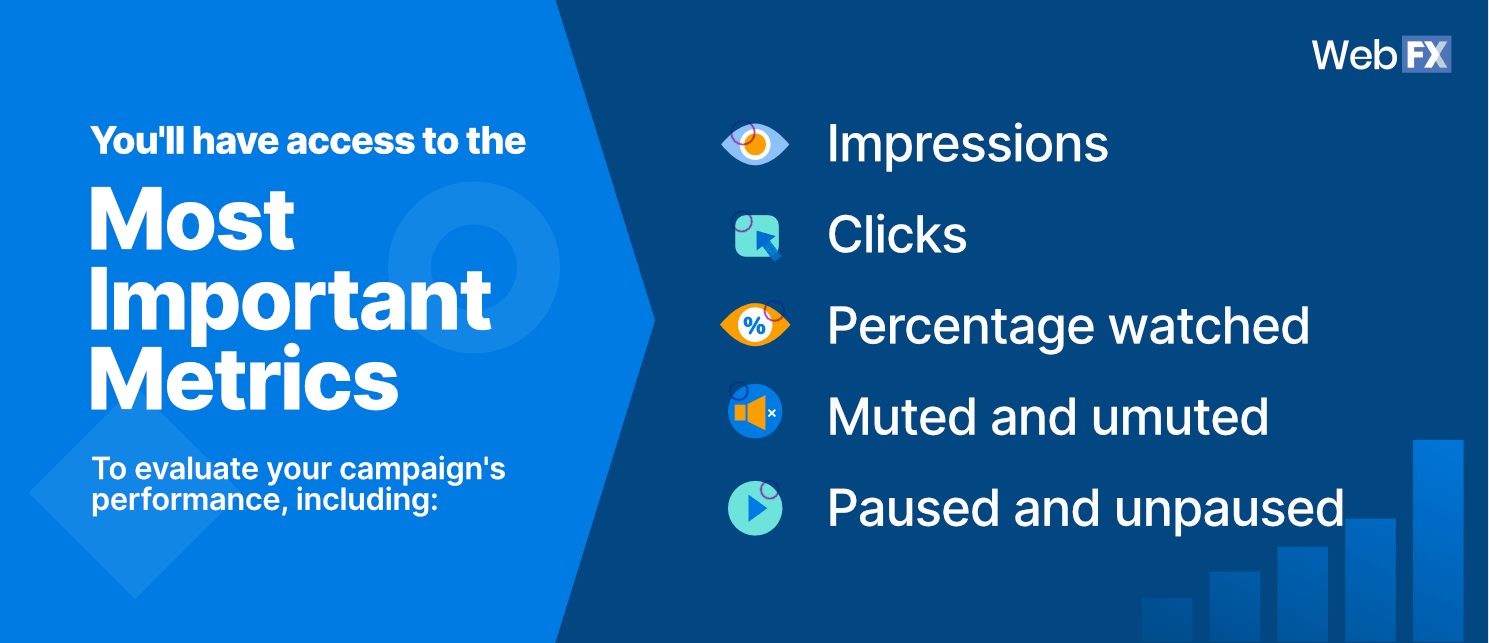 Instead, you can access all the metrics you need to evaluate a campaign's performance, including:
Impressions
Clicks
Percentage watched
Muted and unmuted
Paused and unpaused
You can even see where your ad appeared, as well as how many users watched your ad in full screen.
With our OTT and CTV services, your business also gets insight into online and offline conversions. See how many users, for example, visited your physical location after watching your ad or completed a purchase on your website. You'll even get a summary of your cost per action (CPA) and ROI.
FAQs about OTT and CTV advertising
Looking to learn more about OTT and CTV advertising? Browse our FAQ:
What is OTT advertising?
OTT advertising, also called over-the-top advertising, is video advertising for streaming video services, like Hulu, or streaming video devices, like an Amazon Fire TV stick. Compared to television ads, OTT ads reach users watching content over the Internet versus satellite or cable.
What is CTV advertising?
CTV advertising, also called connected TV advertising, is video advertising for TVs with the built-in capability to connect to the Internet. Typically, these television sets are called smart TVs. Compared to OTT ads, CTV ads are usually skippable.
Expand your market share with OTT and CTV advertising
As the number of cable subscribers decreases, the number of CTV and OTT users increases, which makes promoting your brand through these channels critical. With targeted ads on platforms like HGTV, Pluto, and Buzzfeed, your business can build brand awareness, increase repeat purchases, and more.